Project overview
Changshan cloud data center is located in the high-tech technology industrial park in zhengding, Shijiazhuang. It is a key project of strategic emerging industries in Hebei province in 2017, with a total investment of 5 billion Yuan; it covers an area of 46.13 acres and a construction area of 190,000 square meters. It mainly builds 6 new data machine buildings and 3 power centers, as well as R&D, management, office facilities and transformer substations. The project plans to deploy 24,000 standard cabinets to provide data information services and disaster recovery services for government, Internet, power, education, medical and other industries through big data and artificial intelligence technologies, enabling social-oriented resource intensive, sharing and energy-reducing services.

Achievement of dream
Changshan Cloud Data Center is positioned to be an operator of cloud computing and big data. The main feature of Changshan Cloud Data Center is that big data and cloud platforms are organically integrated and mutually promoted. There are four main service functions.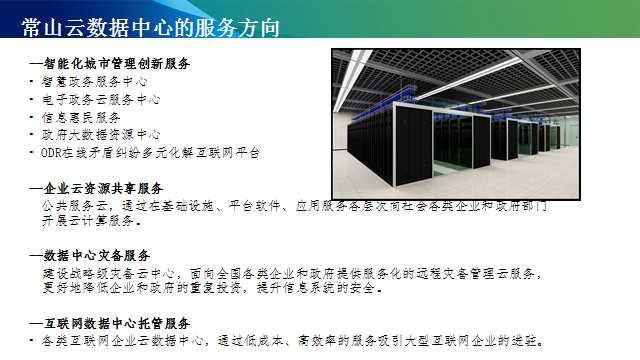 Project implementation
Design level of Changshan Cloud Data Center reaches Tier3+, annual PUE≤1.35. The project will adopt an overall construction mode of one-time planning, phased construction, and batch delivery. The project is divided into four phases.